Summary:
Both residential unit sales and average price were decreased from the same time last year.
Home sales have risen for three consecutive months and yet matched by new listings coming onto the market, which causes the price to rise.
Vancouver, BC – May 11, 2023.
The British Columbia Real Estate Association (BCREA) reports that a total of 7,427 residential unit sales were recorded in Multiple Listing Service® (MLS®) systems in April 2023, a decrease of 17.7 per cent from April 2022. The average MLS® residential price in BC was 995,506 down 5.6 per cent compared to the average price of close to $1.1 million in April 2022. The total sales dollar volume was $7.4 billion, representing a 22.5 per cent decrease from the same time last year.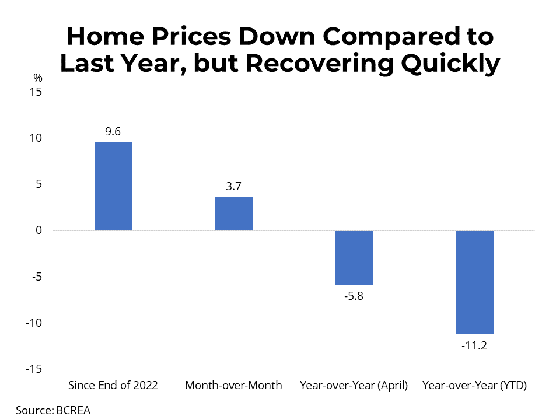 "BC home sales have now risen for three consecutive months, but that recovery in sales has not been matched by listings which continue to fall well below normal levels," said BCREA Chief Economist Brendon Ogmundson....